We are excited to announce an important milestone in our partnership with The Amsterdex Exchange (https://amsterdex.com/), the first and currently the only exchange to integrate our private coin SPECTRE for trading. Amsterdex is a privacy focused exchange based in The Netherlands and require NO personal details to register and trade, no KYC or any other details. You can simply sign up using an e-mail address and start trading.
This is the perfect partnership as we approach the release of Spectrecoin V3 with "Stealth Staking" as you can now keep your balance private, stake in private and use Amsterdex to deposit/withdraw and trade in private. This provides through and through privacy from stake to trade using only SPECTRE. If you haven't used Amsterdex before please take some time and try it out. This is an up and coming exchange with a very responsive trade engine and we have a close cooperation with Amsterdex so you should receive excellent support if needed.
This is a good opportunity to remind everyone that Spectrecoin has a so called 'dual-coin' system, we have the public coins known as XSPEC and the private (untraceable) coins known as SPECTRE. At the moment with Spectrecoin V2 you can only stake XSPEC using PoSv3. That means that you need to convert your XSPEC into private SPECTRE before you can send coins to Amsterdex. I have provided a screenshot below to remind you that you can use the 'Balance Transfer' function to transfer between XSPEC and SPECTRE.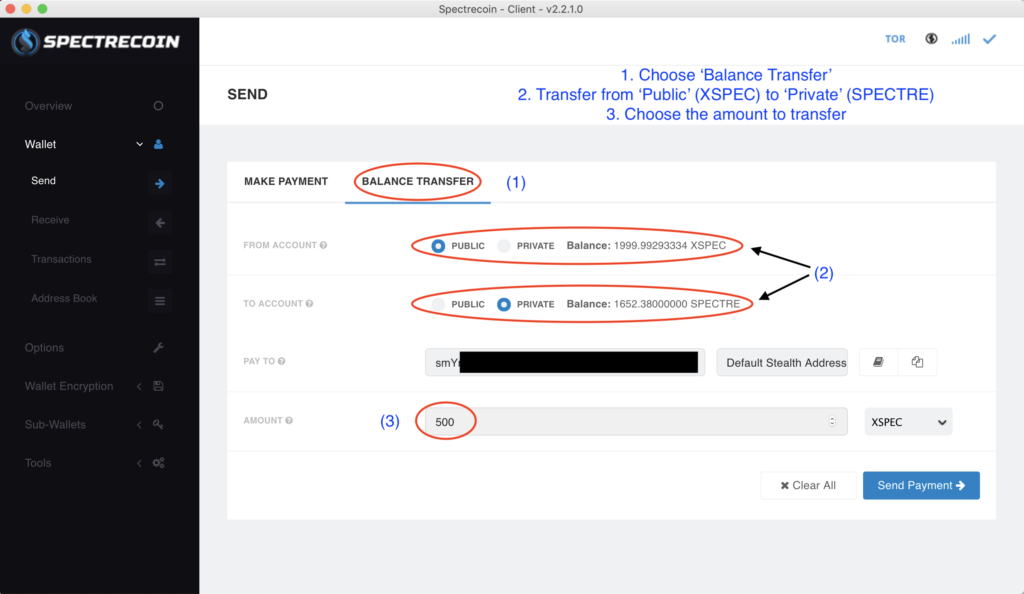 Although Amsterdex is trading in SPECTRE and all the deposits and withdrawals are in SPECTRE we have kept the ticker 'XSPEC' as this is the globally recognised ticker used on all the other exchanges and also on Coinmarketcap and other sites. So when you go to your 'portfolio' on Amsterdex you click 'XSPEC' and then 'Deposit' to generate a new stealth address.

Once you click 'XSPEC' then 'Deposit' you will come to the 'Spectrecoin Deposit Terminal' and you will need to generate a new stealth address. Make sure that you ONLY send SPECTRE from your 'Private' balance to Amsterdex and you are good to go! Don't worry, the wallet will only accept sending SPECTRE to a stealth address so it's unlikely that you can do anything wrong.
Happy Private Trading!!!