Stealth Staking Activated

We are very excited to announce that the Spectrecoin V3 hard-fork to activate "Proof-of-Anonymous-Stake" (PoAS) or so called 'Stealth Staking' was a success and anonymous staking is now live for everyone.
The hard-fork was completed just past 2000 hours (UTC) on Friday 17th May 2019 and the first block staked according to the new consensus rules was Block #1168436 with the new stake reward of 2 XSPEC. The Spectrecoin network behaved as expected and in accordance with what we have seen whilst working on the Spectrecoin testnet.
The very first fully anonymous PoAS block on the Spectrecoin mainnet was Block #1168490.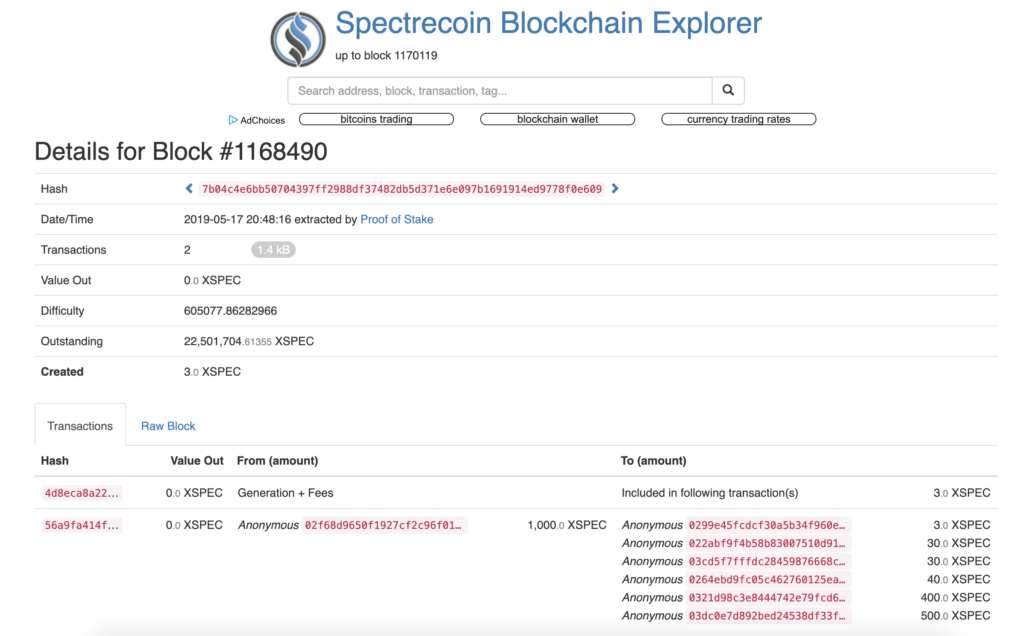 This technology has been a year in the making from the first discussions around the concept to the theory and research, coding and building and finally testing and tweaking on the Spectrecoin testnet. The developers encountered several challenges to make this new protocol efficient and as private as it can be. Above in the first PoAS block you can see an example of the 'splitting' algorithm in action, creating different SPECTRE denominations as part of the staking transaction. Some staking transactions will also consolidate inputs into different denominations. Please have a look at the January 2019 newsletter for more detailed info on PoAS.
Further changes to block time and block rewards were also activated by this hard-fork and the rewards for staking SPECTRE using PoAS is 3 SPECTRE and the reward for staking using PoSv3 is 2 XSPEC. Therefore, it makes sense to convert XSPEC to SPECTRE to stake. We currently have about 3.3 mill SPECTRE staking with PoAS, so that is around 15% of the total supply and a really good start. That means that the privacy of the network and the SPECTRE 'entropy' is increasing by the block. The network participants are creating new 'mixins' in every block and ATXOs are spent in the staking transactions. The block time is approaching the new target of 96 seconds.
What does this mean?
Spectrecoin PoAS / 'Stealth Staking' allows you to keep your money private whilst earning an interest. No one will be able to discover your total balance, no one will be able to discover how much you earn in interest and none of your SPECTRE transactions can be linked. The old saying "Be your own bank" finally makes sense; your money, under your control, for your eyes only and earning an interest whilst making the network more private in the process. In addition to this you can run Spectrecoin v3 near maintenance free on a Raspberry Pi. Getting a 100% private, passive income has never been easier and more eco-friendly.
'Stealth Staking' using ring-signatures is real, it works and Spectrecoin did it first!
Website: https://spectreproject.io/
GitHub: https://github.com/spectrecoin/spectre
Block explorer (v3): https://chainz.cryptoid.info/xspec/
Testnet explorer (v3): https://chainz.cryptoid.info/xspec-test/
Coinmarketcap: https://coinmarketcap.com/currencies/spectrecoin/
Crex24: https://crex24.com/exchange/XSPEC-BTC
Livecoin: https://www.livecoin.net/en/trade/index?currencyPair=XSPEC%2FBTC
Discord: https://discord.gg/ckkrb8m
Twitter (official): https://twitter.com/Spectrecoin
Twitter (official): https://twitter.com/XspecRising
Bitcointalk: https://bitcointalk.org/index.php?topic=4434053.0
Reddit: https://www.reddit.com/r/XSPEC/
Telegram: https://t.me/spectrecoin
Facebook: https://www.facebook.com/spectrecoin/