Welcome to the December 2018 edition of the Spectrecoin newsletter. The main news this month are the completion of the CI build system, further work on Spectrecoin v2.2 and the release of the public beta for v2.2. In addition, Spectrecoin was also added to Blockfolio Signal and the work by our cryptographers from UCL to audit the source code is ongoing but we do not have any further updates for you at this time. We are likely to issue some separate announcement when we know more about what they find. I am not going to cover the CI build system further here. You can click on the link above or in the Wiki link at the end of this newsletter.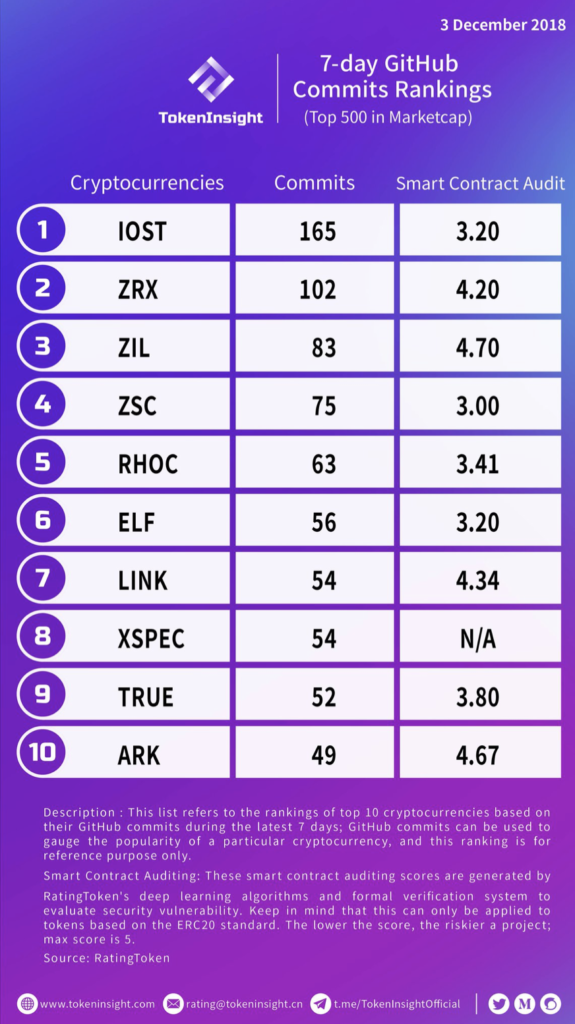 It's also interesting to see that on the 3 month GitHub activity ranking on CRYPTOMISO Spectrecoin is ranked 47 in terms of GitHub development activity, which is pretty good considering the budgets and resources available to much larger projects that are ranked behind Spectrecoin.
Spectrecoin is also ranked no. 8 in the '7-day GitHub Commits Rankings' from the TokenInsight website.
The Spectrecoin devs are busy as always and prove to be one of the most productive teams in the crypto bear market. This speaks volumes about the dedication to the project and the mission and I am in no doubt that all the hard work will pay off in the end.
Spectrecoin has some of the most interesting privacy tech in the market and some bold plans for the future. You get a small flavour of the things to come with the releasee of v2.2 and we will only fly below the radar for so long before we emerge as a serious contender.
Spectrecoin has always been considered a 'work in progress' rather than a finished product and as with most serious software, the development is ongoing and evolving to achieve a secure functional wallet and a great user experience (UX). We believe that the imminent production release of Spectrecoin v.2.2 is a big step forward towards both aims and lays the foundation for the further development of Stealth Staking.
@Tek says this about v2.2 and the upcoming Stealth Staking "We expect most people to convert their public coins to private once Stealth Staking is released. This means all current problems regarding SPECTRE would become apparent. Obviously at the moment practically no one uses SPECTRE. With V2.2, we should finally have a version of Shadow/Spectrecoin which provides not only a thoughtful and intuitive user experience, but also a robust implementation for "difficult" cases like rescanning the blockchain or switching the wallet with existing blockchain data."
Below you will find the links to the public beta release, but please do backup your wallet.dat before updating or experimenting with any new release.
Spectrecoin v2.2-beta (Mac OSX)
Spectrecoin v.2.2 is greatly improved and simplified and focuses on core functionality. We mentioned v2.2 in the previous newsletter but here are the main changes included in the beta release:
Minimum ring size for ATXO transactions increased to 10 (enforced)
Allow SPECTRE <> XSPEC transfers only within account (destination address must be owned)
Disallow sending XSPEC to a stealth address
Chat functionality removed.
RPC method `listtransactions`:

Consolidate ATXOs under the stealth address
New field 'currency' with value 'XSPEC' or 'SPECTRE'
New field narration - Don't list SPECTRE change

RPC method `reloadanondata` removed and logic integrated in `scanforalltxns`
Improved transactions list in UI:

If available show stealth address or addressbook entry for SPECTRE transactions
Transaction type now always includes currency (XSPEC or SPECTRE)
Transfers between XSPEC and SPECTRE are shown with a distinguished type
Show corresponding narration of multiple recipients if available

Improved Make Payment and Balance Transfer form in UI:

Revised 'From/To Account' input fields to reflect new transaction restrictions
Show currency 'SPECTRE' or 'XSPEC' depending on transaction type

Remove 'advanced' mode, integrate 'Add Recipient' in basic mode
Address-book fixes and improvements
New 3D application icon for macOS
Progress indicator for 'load block index', 'clear cache' and 'rescanning'
Fixes the "disconnected UI" problem after startup.
Rescanning of ATXO fixed (Also fixes [#45](https://github.com/spectrecoin/spectre/issues/45))
Please note that to make the various changes and fixes regarding 'SPECTRE' effective, a complete rescan of the Blockchain is required. The wallet will automatically initiate a rescan on startup and will go through the following steps that you can now follow on the splash screen as the wallet loads: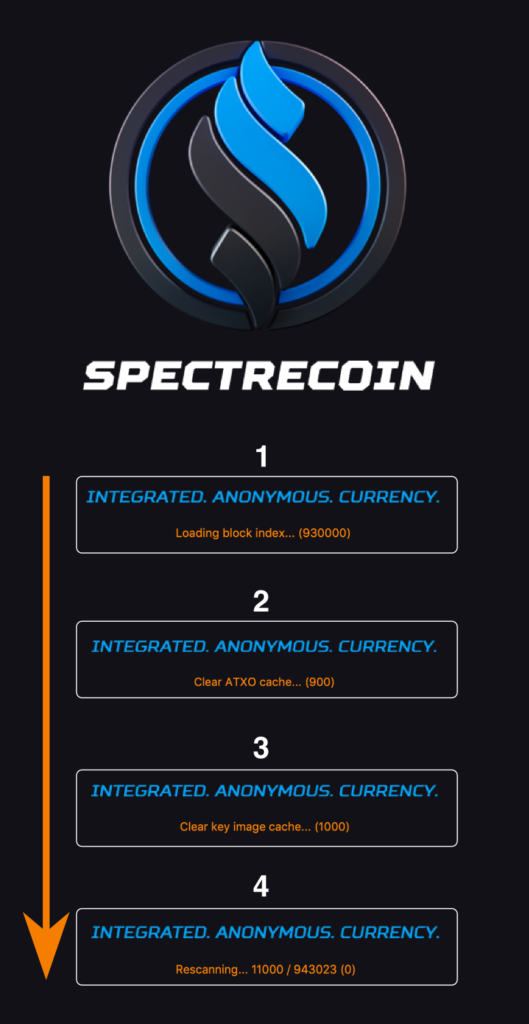 We are looking for interested beta testers for our future releases, so if you enjoy testing software and want to support the development of Spectrecoin, let us know and we can add you to the beta-test group. This will enable you to discuss the software with other regular beta-testers and the developers. Please just DM me (@Mandica) or @Tek on our Discord server.

We are now active on Blockfolio Signal and we recommend that you all use the app as it is one of the most useful crypto portfolio apps I have come across. Download the app and you will never miss any crucial update from the Spectrecoin team and you can track the value of your holdings. Below you can see what it looks like when you click on Spectrecoin details in your Blockfolio app. You will then see all the Signal messages from us: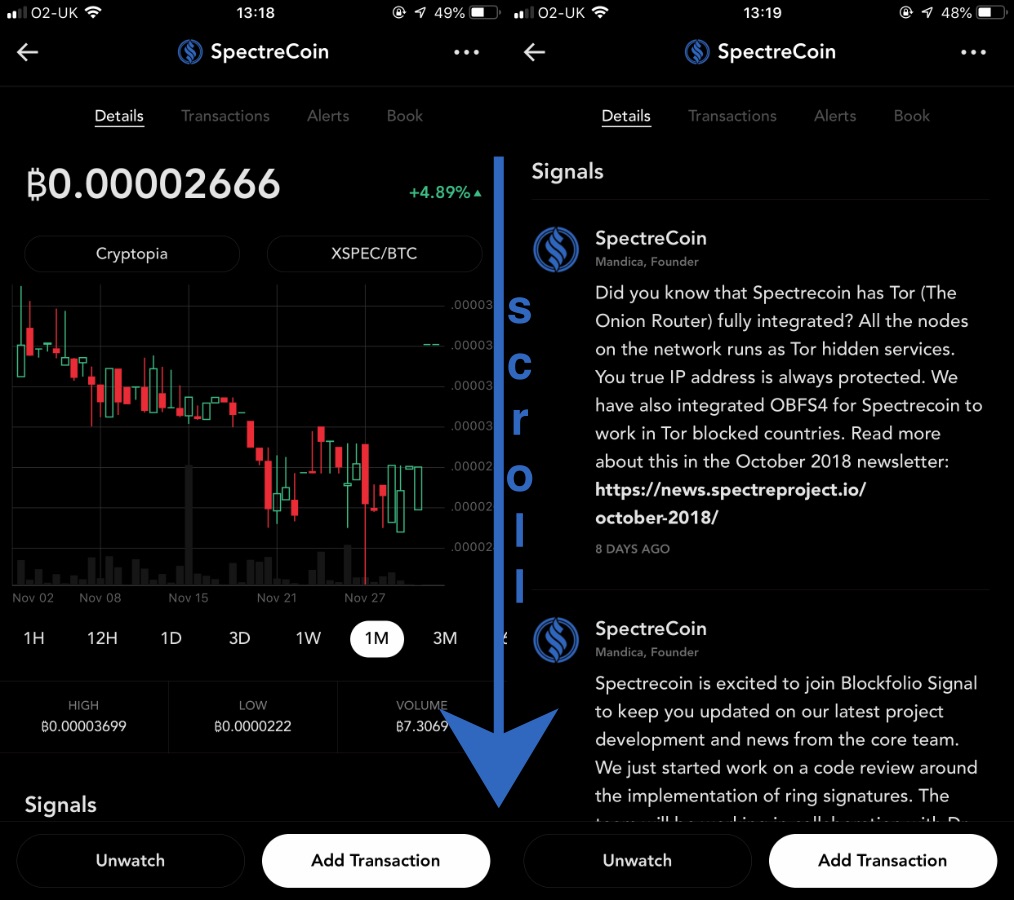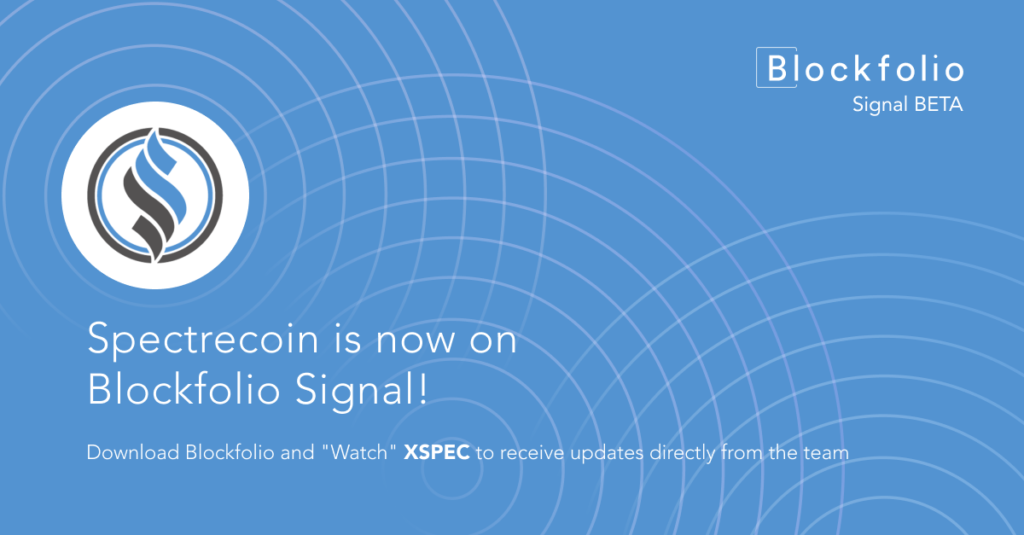 When we promote Spectrecoin on Twitter and on other social media it's easy to think that we reach a lot of people, but in reality we don't. When you use Twitter it's easy to get the impression that it's a "window to the world" and that somehow our Tweets are read by lots of people. This is a misconception and only the human followers that are actually watching the timeline or can be bothered to scroll back to read old Tweets might read what we put out. Twitter and other social media are also full of bots. Blockfolio Signal is different and we know that only humans have installed this app on their phones and will use the app. No bots here and all our messages are attached to the Spectrecoin entry in the users app. This means that the messages we put out on Signal might have a better chance of actually being read. Therefore, I would encourage you to promote this app.

The Spectrecoin Wiki and documentation section is a work in progress and will be updated as we continue to develop the software. Follow the link below for the most up to date documentation.
Recently, @Helix has updated the Wiki and the build instructions for various platforms, the instructions for how to use the bootstrap and using Spectrecoin on a Raspberry Pi.

Website: https://spectreproject.io/
GitHub: https://github.com/spectrecoin/spectre
Block explorer: https://chainz.cryptoid.info/xspec/
Coinmarketcap: https://coinmarketcap.com/currencies/spectrecoin/
Cryptopia: https://www.cryptopia.co.nz/Exchange/?market=XSPEC_BTC
Livecoin: https://www.livecoin.net/en/trade/index?currencyPair=XSPEC%2FBTC
CoinPulse: https://www.coinpulse.io/exchange/XSPEC_BTC
Discord: https://discord.gg/ckkrb8m
Twitter (official): https://twitter.com/Spectrecoin
Twitter (official): https://twitter.com/XspecRising
Bitcointalk: https://bitcointalk.org/index.php?topic=4434053.0
Reddit: https://www.reddit.com/r/XSPEC/
Telegram: https://t.me/spectrecoin
Facebook: https://www.facebook.com/spectrecoin/
Until the next time….spread the word about Spectrecoin far and wide…
"Mandica"