Welcome to the December 2019 newsletter and the last one this year. Spectrecoin has made great progress in 2019 and we are still going strong despite a prolonged bear market and an overall unenthusiastic sentiment across the crypto world. Our development team designed and implemented 'Proof-of-Anonymous-Stake', a novel staking protocol using ring-signatures, and the first anonymous staking system on a 'trustless' setup - a world first! We set up the not-for-profit Spectrecoin Foundation in the UK to manage development, we expanded the dev team with another developer, and we secured funding for the future. Crucially, we now also have an alpha version of a fully featured Android mobile app with anonymous staking - another world first! We are now in the initial stages of planning a full re-brand and marketing campaign to appeal to a broader audience and attract investors. We are taking steps to make sure we don't suffer from lack of regulatory planning and ignorance of what is coming in the form of increased scrutiny in the crypto market by working with a legal firm. We aim to make 2020 a year for Spectrecoin to thrive, prosper and evolve. We aim to make 2020 a year for Spectrecoin to find utility and to mature. We will make Spectrecoin a household name in crypto circles when privacy is discussed, and we will find a much wider user base. We believe Spectrecoin is one of the best privacy projects.
In this edition
Development update
Spectrecoin vs. Bitcoin: Environmental considerations
Re-branding update
Naming competition winners
Jobs @ Spectrecoin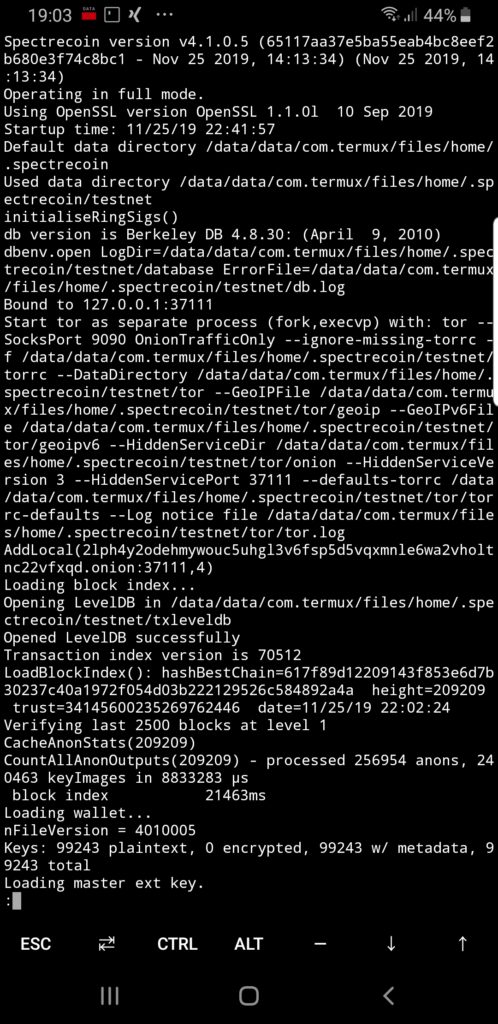 Android App
Today we have some very exciting news from the Spectrecoin developers! The first Git commit concerning our goal to develop an Android wallet, was performed on 23rd July 2018. After countless additional changes and improvements, @Helix was able to build the first Alpha version of the Spectrecoin daemon for Android recently. The daemon is currently running successfully and is staking coins without any further issues. This is a significant milestone as we now have the proof that the full Spectrecoin wallet can successfully be executed and run on Android. This will enable further use cases in the future and open up a vast market for mobile Spectrecoin users in areas we previously could not reach. Although this is truly a momentous step forward, there is still a lot to consider and review. There are further details to discuss and verify but we can now go ahead with more detailed planning. To the left is a screenshot from @Helix's Android alpha build running.
The daemon is staking both XSPEC and SPECTRE in the same way as the full desktop version would. In terms of the source code, it is it's the same source code used to build the wallet for any other operating system. That means the Android app will be a fully featured wallet with anonymous staking. We believe this is a world first on mobile and we can't wait to offer you the completed version of the app. Our initial tests suggests that battery consumption whilst staking is modest and that the wallet does not consume any more energy than a typical Android app. Anonymous staking is coming to Android!
Over the next few newsletters we would like to highlight all the main features of Spectrecoin and our own PoAS (Proof-of-Anonymous-Stake) and compare this with the main features of Bitcoin and its classic PoW (Proof-of-Work) protocol. We will cover different themes in turn and we will ultimately show that Bitcoin has deviated wildly from it's intended function, has become a tool for government surveillance and has been taken over by corporate interests and now mainly exists to make a small elite rich. In the first instalment of this series we would like to focus on the eco credentials of Spectrecoin's PoAS / PoSv3 protocols and compare this with Bitcoin's grotesque energy consumption needed for its PoW. In the next instalment we will look at network security, then we will have an assessment of the privacy credentials of both networks and later on we will look at the centralisation issues and beyond.
PoAS vs. PoW
Global warming and climate change have long been topics of debate and climate change is now generally considered an emergency by scientists. The extent to which we, the humans, contribute to the acceleration of global warming and climate change is a hot topic. This imparts some responsibility on us all to consider the environmental impact of our activities and to consider the impact of the products we develop and support.
…we declare, with more than 11,000 scientist signatories from around the world, clearly and unequivocally that planet Earth is facing a climate emergency.

BioScience, biz088, https://doi.org/10.1093/biosci/biz088 5th November 2019
The Cambridge Bitcoin Electricity Consumption Index https://www.cbeci.org/ suggests that the Bitcoin network is currently consuming 7.52 GW which sits somewhere in between the energy consumption of Columbia and Venezuela. This is more than than the energy consumption of Austria, to compare with a European country. This enormous amount of energy is needed to secure the Bitcoin network and process transactions. In fact, the network security in Proof-of-Work is dependent on energy consumption and this is projected to increase over time.
The Bitcoin system has a carbon footprint of between 22 and 22.9 megatons per year. That is comparable to the footprint of such cities as Hamburg, Vienna or Las Vegas.

Technical University of Munich (TUM) 13th June 2019 (link)
Proof-of-stake is an alternative consensus protocol first implemented in Peercoin in 2012. In Proof-of-Stake network security is not dependent on energy consumption. Spectrecoin always used PoSv3 and was always energy efficient but recently the Spectrecoin developers have made it possible to run the full Spectrecoin software on a single Raspberry Pi. We estimated in our white-paper that the Bitcoin network used 2.5 million times the energy of a Spectrecoin network running with 1000 nodes. We will make an increasing effort to get users to convert from laptops and desktops and to use a Raspberry Pi to stake Spectrecoin. This will over time make Spectrecoin one of the eco-friendliest blockchains in the world and in that sense future proof in terms of environmental consciousness. It's also useful to consider that most computers used to stake are also used for other everyday purposes but most computers used to mine Bitcoin are dedicated mining machine and serve no other purpose. Bitcoin and PoW is outdated, inefficient and makes a sizeable contribution to climate change. In spite of this Bitcoin does not offer better security. Bitcoin is not eco-friendly and it makes perfect sense to use PoS systems instead. Bitcoin is like the old diesel car soon to be phased out and Spectrecoin is the modern electric car that will take over the market in time.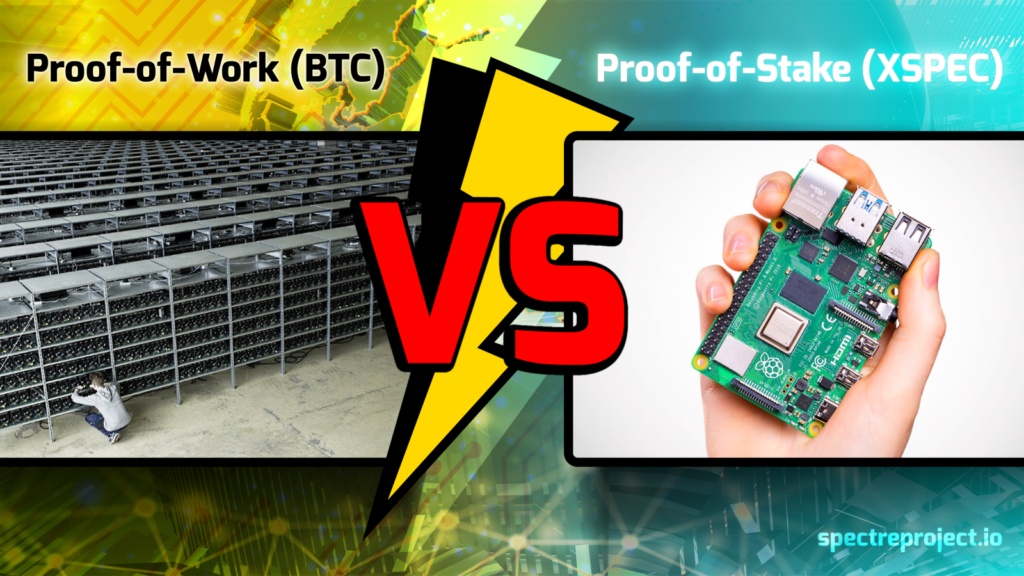 Naming Competition Winners
Alias (27 votes)
Voltaire (16 votes)
Libercy (14 votes)
Select (11 votes)
Dyad (10 votes)
Fade (9 votes)
Union x (8 votes)
Cereus (7 votes)
Veritas (6 votes)
Confidex (5 votes)
We will e-mail the winners and make an announcement on Discord when we pay the rewards. We need to make it clear that we may or may not use any of the names submitted. We will now have a discussion in the team about how to proceed with this process. The total re-branding process will take some time but we will provide updates as we go along.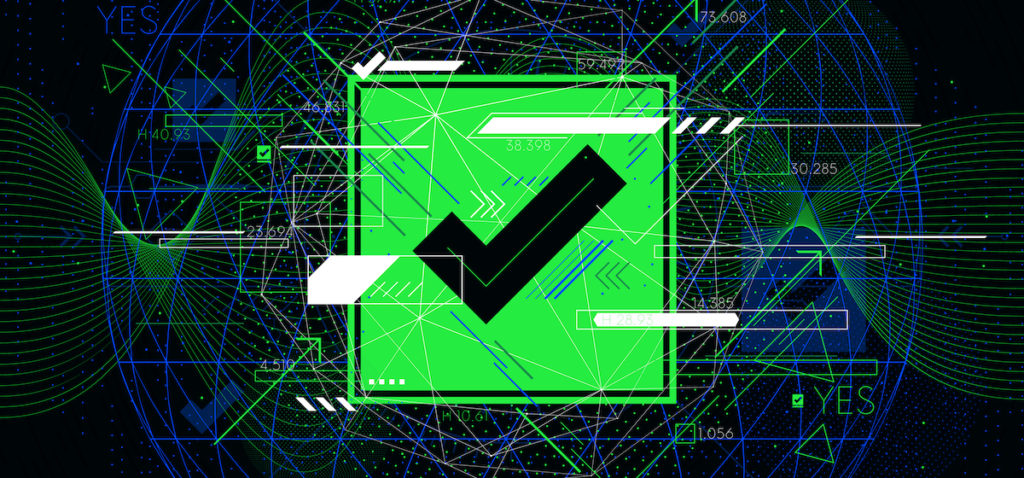 The Foundation has set up an account at Angel.co where any available jobs will be listed. The application process will be handled through the site. We have currently put up one available position for a Marketing Manager to take charge of the upcoming rebranding and subsequent campaign.
It is also pertinent to remind you all that we have 300,000 XSPEC available for proposals, other community engagements or as grants. You can make an application or a proposal directly to our new main e-mail address with details. [email protected]
Spectrecoin Foundation fund: £110,013,- (13/11/19)
As you all know, we are consulting with a law firm in London regarding current and upcoming crypto regulations. We are still waiting for the final report. After the UK general election on 12/12/2019 the conservative party gained a majority and that most likely means that the UK will leave the EU in the near future. This may affect the regulatory landscape in the UK. We will keep you updated if there is any news. We do not anticipate any issues and we will continue to operate as before.
Website: https://spectreproject.io/
GitHub: https://github.com/spectrecoin/spectre
Jobs: https://angel.co/company/spectrecoin-foundation/jobs
Block explorer: https://chainz.cryptoid.info/xspec/
Testnet explorer: https://chainz.cryptoid.info/xspec-test/
Coinmarketcap: https://coinmarketcap.com/currencies/spectrecoin/
Crex24: https://crex24.com/exchange/XSPEC-BTC
Livecoin: https://www.livecoin.net/en/trading/XSPEC_BTC
Altilly: https://www.altilly.com/market/XSPEC_BTC
Citex: https://www.citex.co.kr/#/trade/XSPEC_BTC
Txbit (SPECTRE): https://txbit.io/Trade/XSPEC/BTC
Discord: https://discord.gg/ckkrb8m
Twitter (official): https://twitter.com/Spectrecoin
Twitter (official): https://twitter.com/XspecRising
Bitcointalk: https://bitcointalk.org/index.php?topic=4434053.0
Reddit: https://www.reddit.com/r/XSPEC/
Telegram: https://t.me/spectrecoin
Facebook: https://www.facebook.com/spectrecoin/
All the best from the Spectrecoin Foundation and the team!